Nissan Serena For sale UK Registered direct from Japan including all models supplied in UK by Algys Autos Ltd, THE Best Value in the UK. FACT. Your search for the best prices and quality Nissan Serena for sale in the UK starts and ends here! All Nissan Serena are available via our unique 'Import Scheme'.
Nissan Serena For Sale in the UK Via Algys Autos.
The UK Premier Importer supplying Nissan Serena for sale direct from Japan for over 20 years!
To see Algys Autos Stock of Nissan Serena for sale to be supplied in the UK see the 'Stock' link at the top of this page.
To receive advance notification of Nissan Serena becoming available for sale via the Import Scheme send us an email from this page.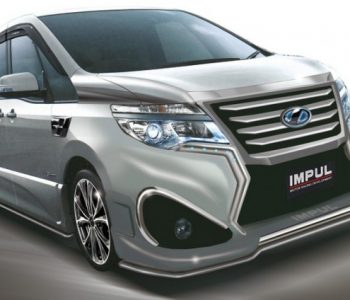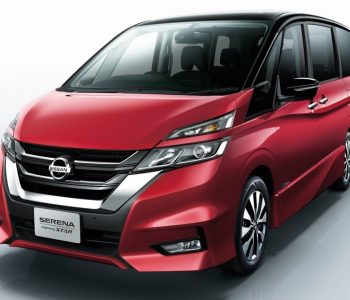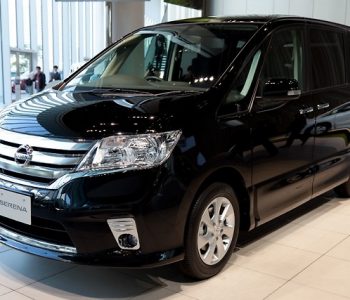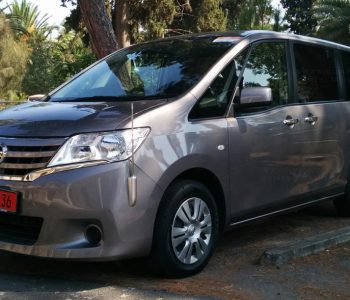 Introduction –
Important, Please Read
The Nissan Serena is a five-door minivan MPV manufactured by Nissan Motor Company. The car was engineered by Nissan's Aichi Manufacturing Division and launched in 1991 as a compact passenger van, and it grew larger with each generation over the years.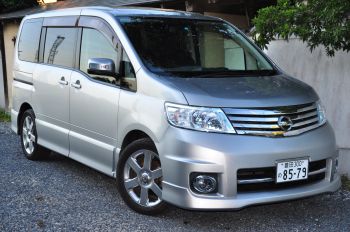 It is a "junior" model to the extremely popular Nissan Elgrand; its name is from the Latin word "serēnus", meaning "clear, tranquil, pleasant"
The Mark 1 edition or Generation 1 was better known in Japan and the UK as the Nissan Largo and based on the C23 Serena between 1992 and 1998.
In July 1999 the Generation 2 was introduced. These versions had a facelift with a wider variety of engines and colours. From September 2002 onwards the Serena saw a 'facelift' version. The pre-facelift Serena had a 2.0 L engine, with the optional 2.5 L engine becoming available from the facelift version in 2002.
The Nissan Serena Generation 3 (called C25) was introduced in Japan in May 2005. This model was only sold in Japan home markets, including Hong Kong, Malaysia, Singapore, Indonesia and Brunei, and was in 2007, 2008 and 2009, the best selling minivan MPV in Japan!
It is the 3rd Generation Nissan Serena that Algys Autos mainly import and supply to customers in the UK. The car is Equipped with a 2000cc petrol engine so making it a much lower engine capacity than most other Japanese MPV, including its 'Big Brother' the Nissan Elgrand. The Serena are 2000cc petrol and available in 2 or 4Wd version with either 7 or 8 seats. There are many grades and options available, again similar to the Elgrand, with Highway Star and Rider Autech among others.
In 2010 we saw the launch of the 4th Generation and with it also came the hybrid option.
What sets Algys Autos Ltd apart from the rest?
That's simple, Algys Autos import only fresh Nissan Serena for sale direct from our Japan garages NOT from very inferior UK auctions or from Nussan Serena circulating for sale within the UK. Most UK traders buy Nissan Serena from the used UK market, generally these cars are tired and have been subjected to the cruel and harsh winter roads and conditions. Ask to see the Japanese auction sheet and proof they imported it from Japan…..if they can't or won't provide it, turn around, walk away and come to the experts.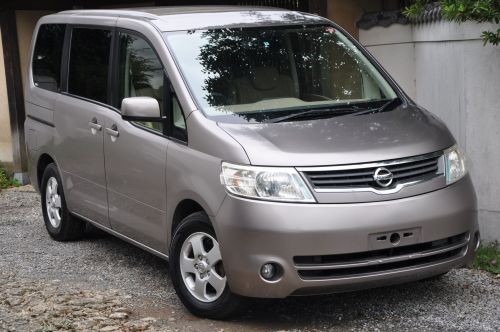 Contact us via email and ask for our stock list of Nissan Serena for sale arriving weekly into the UK, we always have Nissan Serena for sale and en route to the UK at any given time. Also you can email us and advise your exact specifications of any Nissan Serena and we will search and send you full details. Simple. Eamil from here and advise details. 
Please Note:
Compare our prices of Nissan Serena for sale in the UK and you will recognise that Algys Autos is, without doubt, the best 'Value for Money' in the UK, You will note that the Nissan Serena prices are offered 'Import Scheme'. The Import Scheme was a brain-child of Algys Autos over 20 years ago and many have tried to copy it with little success. The other traders even refer to the idea as the Import Scheme (conveniently dropping the 'Algys Autos' of course). The Import Scheme is where Algys Autos allows you to bring the selected vehicle into the UK as a 'Private Importation' and thus saves £1000's. We buy any model of Nissan Serena to your detailed requirements under this scheme via our Garages in Japan.
We are the UK premiere importer and supplier of Nissan Serena and represent over 600 garages in Japan! Our UK garage at Bristol offer full facilities and your car can be delivered to your door via transporter. For full details click the link 'Import Scheme' above. These prices represent un-surpassable quality and value for money.
Algys Autos Ltd are suppliers of all models of vehicles, including the Nissan Serena, to the trade, you too now have the opportunity to purchase at Japan trade prices! We consistently offer the very best value for money in the UK!
Nissan Serena Hybrid For Sale UK Registered
How about a loveley Nissan Serena Hybrid? Thats right Nissan also make the Serena in a 2000cc petrol Hybrid model for the ultimate in fuel efficiency and 'Green' Motoring!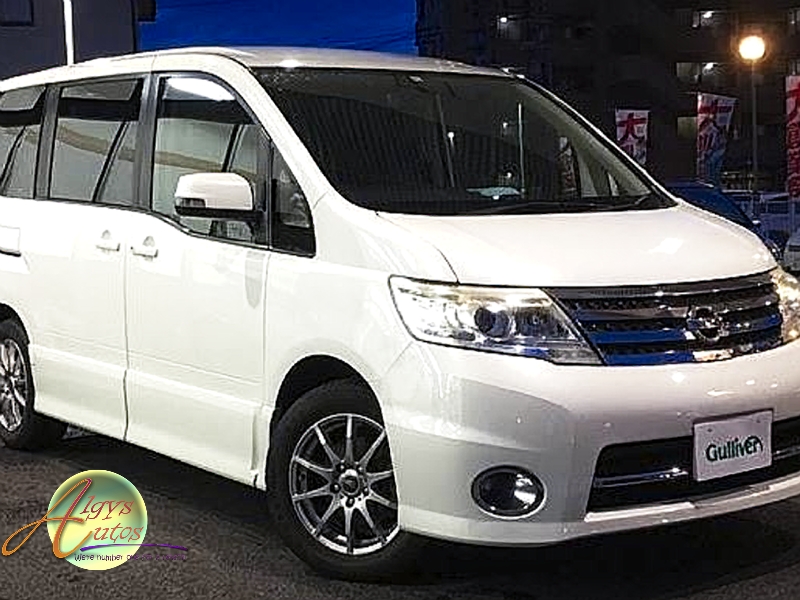 Some Examples of Nissan Serena that were recently available for sale direct from Japan Supplied Fully UK Registered
Algys Autos always have a constant flow of Nussan Serena available for sale Via our Unique Import Scheme within the supply chain either just into Japan stock, en route via Vessel or putting into UK port. To be honest it is incredibly difficult to keep the website daily current as stock literally changes constantly, here however are a few examples of those within the system. it is my no means comprehensive as we have several in the system at anyone time. For an accurate list always emails us for a no obligation list and be put on the daily email list.
Nissan Serena 2007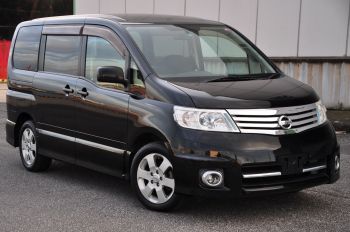 Nissan Serena September 2006
2006 (Sept) Nissan Serena (CC25) Highway Star 2000cc auto:
Nissan Serena for sale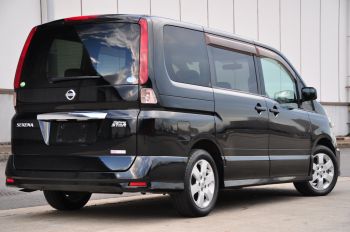 Grade 4 with scratch on bottom edge of n/s/f bumper corner. Full factory aero kit and rear spoiler. Front fog lights. HID lights. Factory alloy wheels with good radial tires. Privacy glass. Power slide door. Rear and side cameras with dash and flip-down monitors.
Cockpit of Nissan Serena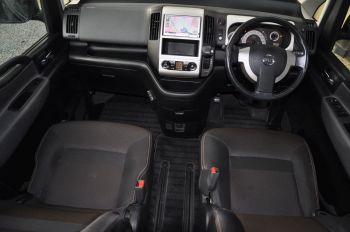 Intelligent keys (x2). Auto angle door mirrors. Non-smoker car. Leather steering wheel. ABS. Climate control. Dual airbags. Original floor mats. 69.000 miles one owner car with full service history Black colour.
Nissan Serena 2007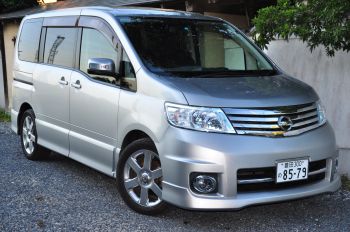 Nissan Serena March 2007
2007 (March) Nissan Serena (CC25) Highway Star 2000cc auto:
Nissan Serena for sale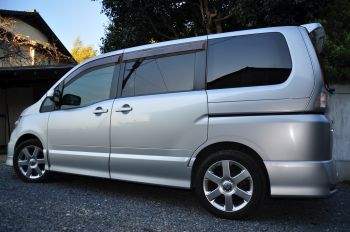 Grade 4.5 with clean repair to the rear step. Full factory Highway Star aero kit. Nissan option 17" alloy wheels with very good tires. Dealer option front lip spoiler. Factory option rear spoiler. Front fog lights. HID lights. Dealer option winker mirrors.
Interior Nissan Serena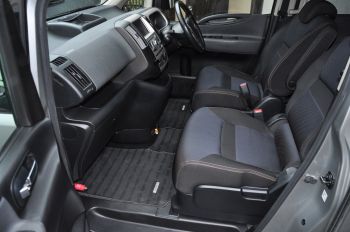 Privacy glass. Dual remote power slide doors. Rear and side cameras. Dash and flip-down monitors. Intelligent keys (x2). Remote entry. Leather steering wheel. Remote engine starter. ABS. climate control. Dual airbags. Original floor mats. 61.000 miles Silver colour.
If you see us for our current stock list of Nissan Serena for sale via the 'Stock' link at the top of the page and don't see what you want then don't despair! Simply send us an email from here    and advise exactly the details of the Nissan Serena you require. we will do the rest. We will send you details of Nissan Serena available in japan for the UK and you will also get the opportunity to see full details and photos showing the Nissan Serena of your choice in the comfort of your own home to see time and again. These is NO obligation to our email service, advice or the YouTube videos.
Look you've seen the cars and prices…….. surely you got the idea by NOW!
Algys Autos Ltd is by FAR the best UK value Nissan Serena for sale in the UK available!! How? We have garages in Japan and UK. NO middle-men. We have the FULL infrastructure in place and we are not greedy. £350 profit per car SIMPLE. Try asking another dealer how much profit he's made on a car!
Nissan Serena C26 Version in black
Just £'s cheaper than you will find anywhere! via the Import Scheme!