Toyota Prius Hybrid For sale UK Registered direct from Japan including the Prius Hybrid Plug-in PHV by Algys Autos Ltd, THE Best Value in the UK. FACT. Your search for the best quality and best prices Toyota Prius for sale starts and ends here! All available via our unique 'Import Scheme'.
Toyota Prius Hybrid For Sale in the UK Via Algys Autos.
The UK Premier Importer supplying direct from Japan for over 20 years!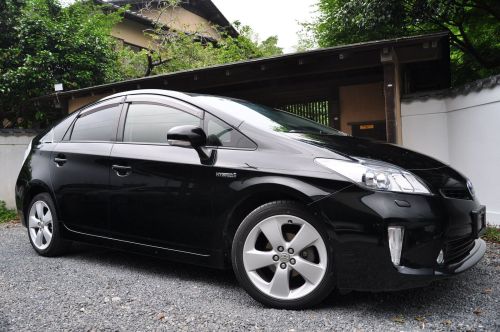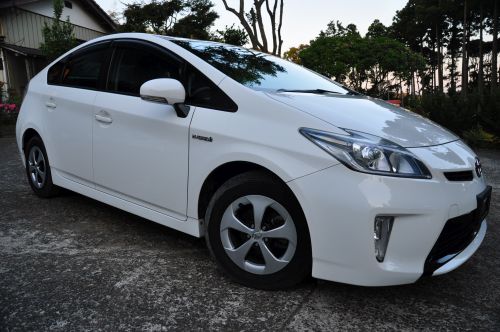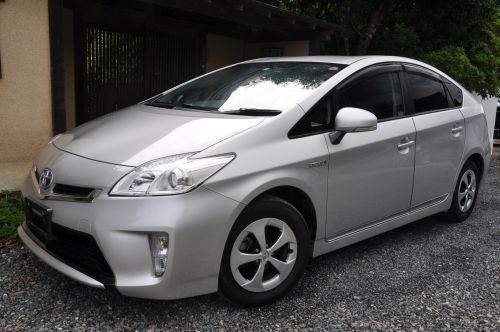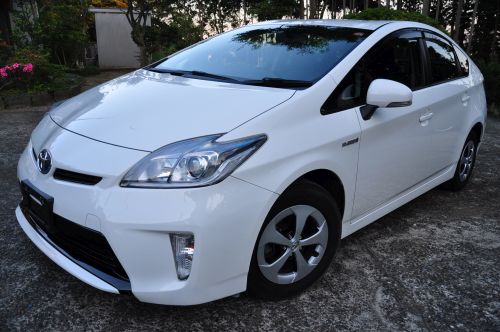 Introduction –
Important, Please Read
History of the Toyota Prius Hybid & Prius Hybrid Models Available
The Toyota Prius is a full hybrid electric manufactured by Toyota from since 1997. The Prius was initially offered as a 4door saloon, but since 2003 it has been produced only as a 5door hatch. Then from 2016 the Prius hybrid has been manufactured as a 5door hatch.
The Toyota Prius Hybrid is rated as among the cleanest vehicles sold based on smog emissions and the 2018 model year Prius Eco is the second most fuel efficient petrol car available after the Hyundai Ioniq "Blue".
The Prius first went on sale in Japan in 1997, making it the first production hybrid vehicle. It was later available from year 2000 worldwide in over 90 different Countries. Japan and the USA  being the largest 2 markets. There have been excess of 1 million Toyota Prius sold reached in May 2008, 2 million reached  in September 2010 and over the 3 million achieved in June 2013. The Toyota Prius Hybrid is the world's top selling hybrid car with over 4 million units now sold.
In 2012 the Toyota Prius plug-in hybrid version was released in 2012., it achieved the highest MPG rating in all-electric of any vehicle examined by EPA The Prius family has now achieved global cumulative sales of 6.1 million vehicles as January 2017,  this represents 61% of the 10 million hybrids sold worldwide by Toyota.
Algys Autos have been importing the Toyota Prius Hybrid direct from Japan to the UK for some years and the condition, optional extras and gearxis are reportedly far superior than the ones available from within the UK 'Home Market'. Algys Autos offer all Toyota Prius for sale duerct from Japan fully UK registered. They are superb for fuel economy and a 'green' enviroment.
What sets Algys Autos Ltd apart from the rest?
Simple, we import fresh stock direct from our Japan garages NOT from very inferior UK Dock auctions or from Toyota Prius Hybrid circulating for sale within the UK. Most UK traders buy from the used UK market, generally these cars are tired and have been subjected to the cruel and harsh winter roads and conditions. Ask to see the Japanese auction sheet and proof they imported it from Japan…..if they can't or won't provide it, turn around, walk away and come to the experts.
Compare our prices and you will recognise that Algys Autos is, without doubt, the best 'Value for Money' in the UK, You will note that the prices offered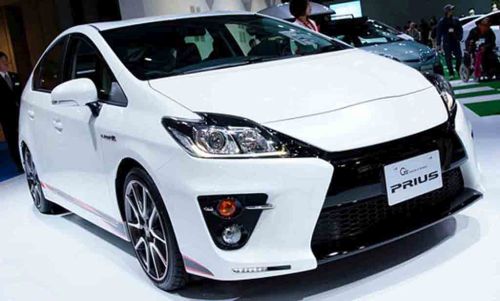 'Import Scheme'. The Import Scheme was a brain-child of Algys Autos over 20 years ago and many have tried to copy it with little success. The other traders even refer to the idea as the Import Scheme (conveniently dropping the 'Algys Autos' of course). The Import Scheme is where Algys Autos allows you to bring the selected vehicle into the UK as a 'Private Importation' and thus saves £1000's. We buy any model to your detailed requirements under this scheme via our Garages in Japan.
We are the UK premiere importer and supplier and represent over 600 garages in Japan! Our UK garage at Bristol offer full facilities and your car can be delivered to your door via transporter. For full details click the link 'Import Scheme' You can contact us directlt and see examples of Toyota Prius avaulable to be purchased on our Import Scheme. These prices represent un-surpassable quality and value for money.
Algys Autos Ltd are suppliers of all Toyota Prius models to the trade, you too now have the opportunity to purchase at Japan trade prices! We consistently offer the very best value for money in the UK!
Contact us via email and ask for our advanced stock list of cars arriving weekly into the UK, we always have Toyota Prius for sale and en route to the UK at any given time!!
Remember:
Remember Algys Autos are a Major importer of all Japanese vehicles and are recognised by most as the only real alternative to safe best-price vehicle imports. We founded the unique 'Import Scheme' over 20+ years ago and offer it to our customers on all our cars. The price shown of these Toyota Prius offered for sale are 'On the Road' Via our 'Import Scheme' with 12 Months MOT, in Excellent condition and fully UK Registered. Remember to get the best possible value on a qualityToyota Prius @ Algys Autos purchase via the Algys Autos Import Scheme for the Prius Hybrid range,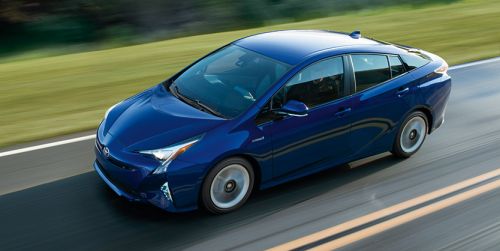 Some Examples of Toyota Prius Hybrid For Sale direct from Japan & Supplied Fully UK Registered
Algys Autos always have a constant availability of Toyota Prius (including the entire range of the Prius Hybrid family) for sale Via our Unique Import Scheme within the supply chain either just into Japan stock, en route via Vessel or putting into a UK port. To be honest it is incredibly difficult to keep the website daily current as stock literally changes constantly, here however are a few examples of those that we have avaulable or have recently imported within the system. it is my no means comprehensive as we have many available within the system at anyone time. For an advanced & accurate list always emails us for a no obligation list and be put on the daily email circulation. Email Here and ask  
2012 (March) Toyota Prius Hybrid (ZVW30) L Package 1800cc auto:
Grade 4 clean car. Factory alloy wheels with OK tires. Winker mirrors. Tonneau cover. Floor mats. ABS. Climate control. Airbags. Smart keys (x2). 74,000 miles with service history. Silver colour SOLD.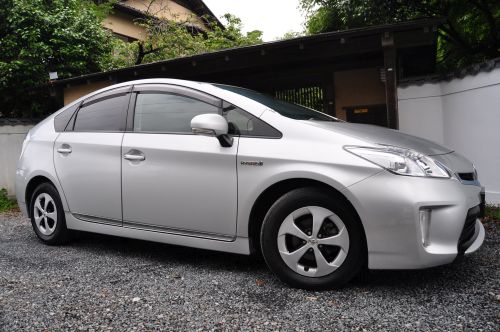 2013 (April) Toyota Prius hybrid (ZVW30) S Edition 1800cc auto:
Grade 4 with small line scratch on o/s/r quarter. Factory aloy wheels with good tires. HID lights. Winker mirrors. Airbags (x8). Smart keys (x2). ABS. TRC. Climate control. Rear camera. Tonneau cover. Original floor mats. 73,000 miles with full service history. Pearl white colour, SOLD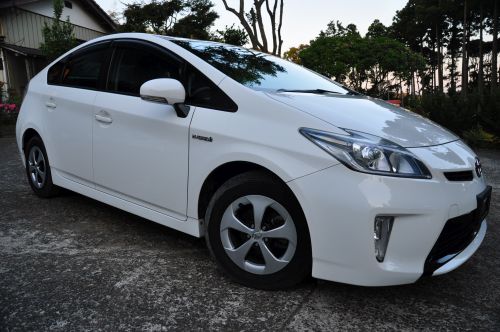 Quote Ref 1020
2013 (June) Toyota Prius hybrid (ZVW30) S Touring Selection 1800cc auto:
Grade 4 front bumper corner scratch. Front fog lights. HID lights. Factory 17" alloy wheels with good tires. Airbags (x8). Headlight washers. Rear camera. Winker mirrors. ABS. TRC. Smart keys (x2). Tonneau cover. Climate control. Original floor mats. 73,000 Miles. Black colour, SOLD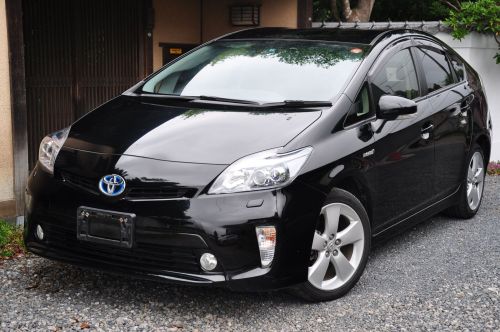 And so what of the later Generation 3 Toyota Prius?
Toyota released the new Prius Hybrid in Japan in May 2009 the new body design is definatley more aerodynamic, with a reduced drag coefficient The roof also has a special design with a double 'wave' to lower the air resistance. The overall combined weight has been rediced with a weight-saving aluminum for the bonnet, rear tailgate, front axle and brake calipers (disc brakes are fitted to all four wheels). The ngine has been uprated to a 1.8-liter from 1.5 lutre and now generates 98 hp (73 kW), and with the added power of the electric motor generates a total of 134 hp (previously 110 hp). The larger engine reduces engine speeds, which improves fuel economy at highway speeds. The Prius is the first vehicle production engine that requires no accessory belts, which also further improves its fuel economy
The estimated fuel-efficiency rating: combined cycle, is 60 mpg. The official UK fuel efficiency data for the Prius Gen 3 is Urban 72.4 mpg, Extra Urban 76.4 mpg and Combined 72.4 mpg.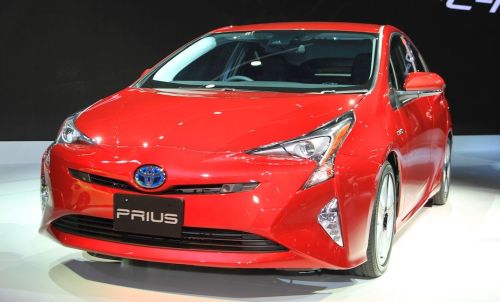 If you contact us for our advance notification Toyota Prius stock list you will also get the opportunity to see all the Toyota Prius hybrid of your choice in the comfort of your own home to see time and again. These is NO obligation to our email service, advice or the YouTube videos.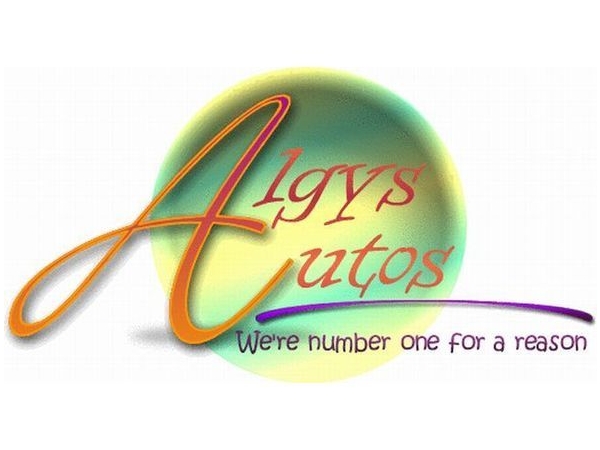 Look you've seen the cars and prices…….. surely you got the idea by NOW!
Algys Autos Ltd is by FAR the best UK value available!! How? We have garages in Japan and UK. NO middle-men. We have the FULL infrastructure in place and we are not greedy. £350 profit per car SIMPLE. Try asking another dealer how much profit he's made on a car!
IF you still need convincing check out our current stock list above under the link 'Stock' & also via email. No obligation, just email us and ask for the latest Toyota Prius email list. Not difficult is it. And then get a grip on yourself and call or email, ask to be put on the daily email list.   Nissan Skyline For Sale.